GABR News
Hastings Sweeps Great American $20K Race Weekend!!
Hastings Sweeps Great American $20K Race Weekend
Nasty Nick Hastings wins everything at the Great American $20,000 Bracket Race and Dream Team Challenge. Donny Burleson, Koy Collier, Team Baehr, and Team Stewart also win big.
(HOLLY SPRINGS, MISSISSIPPI, JUNE 8, 2020) The Third Annual Moser Engineering Great American $20,000 Bracket Race/Dream Team Challenge was held at Holly Springs Motorsports in Mississippi. After initially being postponed due to Covid19, the race had to be moved from its home track Memphis International Raceway but will return in 2021.
Even with the change of venue, racers from all across the country came to Holly Springs to race for Big American Flag Checks and the SDPC Raceshop Dream Team Challenge.
For the 3rd Annual Scoggin Dickey Race Shop Dream Team Challenge team captains brought five of their best drivers to field the top bulb, footbrake, and Jr. dragster classes to race for a large purse plus the title of Dream Team Champions.
Jr. Dragster Results
In the Jr. dragster class Team Ben Willis defended their title by claiming the title of Jr. Dragster Dream Team Champions for the second year in a row.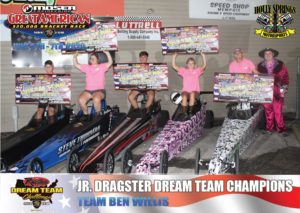 Dream Team Top Bulb Results
After fighting their way through the Top Bulb field Team Trampus Stewart met Team Chad Axford in the final round of the SDPC Raceshop Top Bulb Dream Team Challenge. Both teams were all tied up 2-2 as the final pair came to the starting line. Justin Allbritton sealed the deal for Team Stewart as he was .007 dead .006 taking the win over team captain Chad Axford.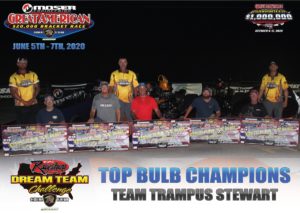 Dream Team Footbrake Results
In the Footbrake class of the SDPC Raceshop Dream Team Challenge Team Rick Baehr and Team Thomas Holley met in the final round. Team Holley defeated the 2019 Dream Team Champions, Team Richardson Boyz in the semifinals, denying the chance at a repeat in 2020.
After going down 0-2 Team Baehr came back and swept the final three races as Charlie Lockhart, Gage Burch, and Nick Hastings fought from behind to claim the title of Footbrake Dream Team Champions. Baehr, Hastings, Walker, and Lockhart were also the first Footbrake Dream Team Champions at the Inaugural event in 2018.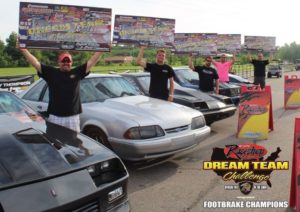 GABR $20,000 Bracket Race Results
Though the Dream Team Challenge brought excitement and the camaraderie of being on a team. The weekend also included the Moser Engineering Great American $20,000 Bracket Race. Due to weather Friday's event was combined with Sunday's main event. This raised Sunday's purse to $10,000 in Footbrake and $20,000 in the Top Bulb class.
In the Footbrake class "Nasty" Nick Hastings brought his broom and swept the weekend winning Saturday and Sunday's main events. Hastings had to face two of his teammates on Sunday as he faced Lucas Walker in semifinal round and Gage Burch in the final round.
In the Top Bulb class Donny Burleson took the win over Buddy Ferrell in Saturday's Main Event and Koy Collier took the win in Sunday's Main Event over Jesse Bobo. Both Burleson and Collier claimed their big American Flag $20,000 Checks.
Great American Bracket Race Recap
Race promoters Gaylon Rolison Jr., Britt Cummings, and the entire crew worked hard to put on a great event for the racers and make the best calls they could as mother nature decided not to cooperate on Thursday and Friday. The 3rd Annual GABR included more than just racing as they always want to show appreciation to their racers through the FTI Cookout and complimentary breakfast thanks to CP Racing Promotions and Holly Springs.
To ensure a level playing field for all competitors, Britt Cummings and Cody Harger conducted tech inspections throughout the weekend. This continues to be an area of focus at all GABR events.
Gaylon and Britt were quick to hand out praise after another successful race. First, they wanted to thank each and every one of the racers that came out to Holly Springs this past weekend. "Racers are our customers and we want each of them to have a great time," Gaylon said.
They also thanked Frank Kohutek and staff along with Paul Cartwright for their expertise of facilitating a smooth run event. And to Holly Springs and their staff for their hospitality. Holly Springs was a "very impressive facility with a small-town feel". Most importantly they praised Paige Hamlin for "single handily taking the Great American Bracket Race to the next level with her coverage of the event. Absolutely impressive".